You should not have a favorite weapon, or any other exaggerated preference for that matter. To become overly attached to one weapon is as bad as not knowing it sufficiently well. You should not imitate others, but use those weapons which suit you, and which you can handle properly. It is bad for both commanders and troopers to entertain likes and dislikes. Pragmatic thinking is essential. These are things you must learn thoroughly.
- Miyamoto Musashi, The Book of Five Rings
This post was originally a comment in response to tyflec's comment on
my post on spell selection and reliability
(reproduced below for ease of use). It got a little long, though, so I decided it warranted its own post.
I feel like gravitating towards perfect reliability spells is sort of what you get for going combat-as-war. If everything is going to do its level best to kill us, and we don't have some kind of guarantee that they'll be on an even footing with us, then we as players simply can't afford to use spells that aren't reliable. Now, if you wanted to make a status-effect spell worthwhile, why not make it save-partial as opposed to save-negates? Like Blindness, say. If Blindness always blinded someone for at least one round, with a save determining whether they were permanently blind or not, it would be much more useful. Or, you could make it save-ends with a minimum duration of one round. That would solve the problem of perma-blindness instantly ending a fight, which is also not very fun. Although a minimum-one-round spell does lend itself to chain-casting to keep the creature blind for as many rounds as you have wizards...
I disagree that desire for perfect reliability is a symptom of combat-as-war; I think it is more of a problem of general human risk-aversion. Humans dislike failing more than they like succeeding, as a rule. Perfect reliability means no failures, which is awesome, and something we'd expect most any reasonable human to pursue. Further, I think that there is a case to be made for unreliable single-target spells in a combat-as-war game like ACKS. If you're up against a 20 HD dragon and you've got one round to cast a spell, you're a damn sight better off casting Charm Monster than Fireball, because it absolutely will survive the fireball, but it might roll a 1 on its save against the Charm Monster, and then you will survive (and have a useful new ally). An unreliable chance of success is sometimes better than an reliable certainty of failure. Of course, an even better plan would be to run away, or, if playing combat as war, to not have gotten yourself in that position in the first place...
I think a better counter-argument for "reliability focus follows from combat-as-war" manifests itself when we look at 3.x character design (say for Tim's campaigns) and unreliable mechanics. When we design 3.x characters, we usually design towards a specific concept or purpose, and then our satisfaction with the game is strongly correlated with how well we fulfill our intended function in combat (I'm a little bit this way, and it seems very true of my conversations with Alex; what with Shin Yao and Torrison I think you (tyflec) may be of somewhat the same mind). When the mechanic we want to build around is unreliable because of the way the system implements it (save-or-suck casters, maneuver fighters, crit-fighters), we end up disappointed because we feel like we're not fulfilling our Aim In Playing, the successful application of the chosen mechanic, frequently enough for the game to be worth it. Hence the push we see from you and Tim and others to make these mechanics more reliable; you want to build around them, but they are sufficiently unreliable as to be unsatisfying if you make their application your sole aim. Thus, even in a combat-as-sport setting we still see this reliability problem within our group.
Getting from reliability to your second point about status effects, I'm not really concerned with making status effects 'worthwhile'. At this point I'm of the mind that parts of the game are tools for different purposes, and my aim is to figure out how to play it well, to learn which tools are good for which tasks, and to build characters with a broad enough array of tools to meet a wide variety of challenges successfully. If you want to play a dedicated save-or-suck caster, go for it... but pick your targets and know their weak saves, bring a wand of magic missiles for mindless undead foes and a crossbow for golems, and don't complain when a reliable damage caster one-ups you most of the time. Save-or-sucks are a good way to dispose of a weak foe or two quietly and with high reliability, in situations where bloodstains, fire, and screaming aren't going to work (eg, infiltrating a castle, hold-personing sentries), or to try for a lucky knockout-punch against a big foe. Why are we trying to make them something else? If you're a save-or-suck specialist, then yeah nice packaged level-appropriate encounters against foes with good saves are going to be frustrating, because the guy with the fireballs is going to be effective all the time and you're only going to be sometimes. Take it as a challenge; what're you going to do about it? The easy way out is to not play specialists! Use the right weapon for the right fight. If you must be a specialist, seek out situations where you can leverage your specialty (knock-down, drag-out fights probably aren't those, for this sort of specialist). Play smarter, hop the railroad tracks, and tell the DM where he can stuff his balanced encounters as you Charm Person Warduke's family rather than the baddy himself.
Mostly I'm kind of tired of a trend I've been seeing in this group for a while. xk says it well: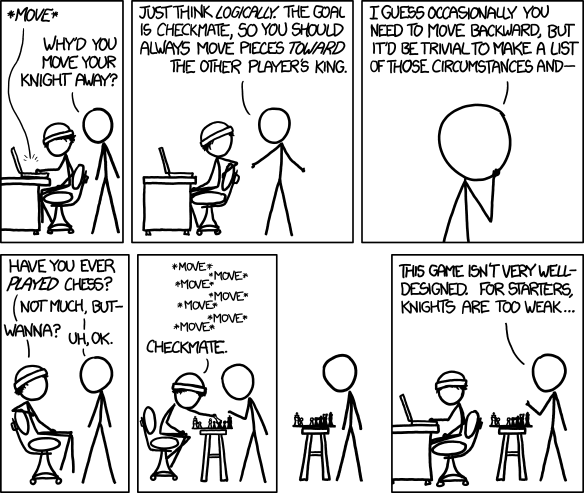 Our first reaction to issues in a game is usually to start proposing rules changes and stealing rules from other systems. Rarely are we willing to admit "I chose a dumb thing to specialize in" or "I applied this tactic in a situation where it was clearly a dumb idea." Tactically, we're idiots, a lot of the time, and we absolutely do not pay attention to what the system is telling us about how it wants to be played. We adapt slowly and infrequently, and we just keep doing the same thing that our characters were 'built' for, even when it is an awful plan. But instead of admitting that we're bad, we shift the blame to the rules, and decide to go mucking around with those. Rather than having our characters adapt and diversify like people in a 'real'-esque world would, we bend the laws of physics because it saves face. And then hey, we get to look fancy because we're doing Game Design and out-thinking the professionals! Feels good, man.
But the game never gets better, because some guy (possibly me) will eventually choose to super-specialize his character in touch-range-only necromancy or fighting with two shields or some other Clearly Stupid But Mechanically Vaguely Plausible Idea, so we keep contorting the system to make
that
viable, and (more often) houserules cause cascades of unintended consequences and then we have to patch
those
... It's even better if you add supplements and other peoples' houserules from the internet. Been down Houserule Road, burned
several
home games over the years. Sorry dad; I think I might've finally learned my lesson.
At this point, I'm all for clarifying and interpreting places where the rules are unclear, or for altering the rules to better conform to the intended setting, but changing the rules for the sake of 'making the game better' is not currently of any interest to me. The fact that
the few alterations I made to ACKS were arguably causal for some of the terminal issues with the campaign
leaves me very leery of altering things without fully understanding them and properly considering the implications of the changes I'm making. The flaws of a game, in my experience, are often with how the rules are being applied, with the way it is being played, rather than with the rules themselves.
If a class or strategy 'sucks,' the interesting solution isn't to patch it; it's to either not play it, or to figure out a way to play it which makes it not suck, and to diversify your strategy so that you're still useful in some way when you come up against a hard counter to your standard plan of engagement. When I say "
Dismember is a bad spell for PCs
, the thief is an awful class, and 3.x archers are terrible", there's an implicit "but I challenge you to prove me wrong in action, using the tools present in the system-as-written." When Dan's TB rogue sucked, the general opinion within the group became "TB rogues suck," and I responded by building
Asmir
and running him in a way which did not suck. I'm actually seriously considering running a thief for Drew's ACKS game for just this purpose; the group is convinced that thieves are bad, and for every time I try it and end up dead, the victory when I do finally crack it and play a successful thief will be all the sweeter.
In sum: I'm tired of asking and being asked, "What about removing action points, or adding inherent bonuses in place of magic items, or banning certain feats or classes, or making guilds available to non-thieves, or building custom trade hijinks for non-criminal venturers, or making domains available to sub-9th characters, or improving sunder and save-or-suck?" I want to play the game, really play it, adaptively and with a chance of defeat, rather than playing
with
the game.
... but if you absolutely must make new save-or-suck spells that are Save Partial and strictly better than the current versions, at least make them higher level and give them new names, for god's sake :(